Thai Kitchen has a most beautiful website, and I love their instant rice noodle soup.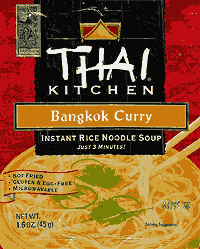 They make a number of different vegan products. I am very intrigued with the thought of their coconut milk for use in recipes, so I'll look for some next time I go to my local health food store. Even though they do sell their wares on their website, it was quite a bit more expensive there — $3.50 for 4 packets of soup and I bought one elsewhere for 55 cents.
My favorite soup is Bangkok Curry, nice and spicy. They also have Garlic & Vegetable, Thai Ginger, Spring Onion, and Lemongrass & Chili.
These single packs of soup are great for a lite lunch or a snack. Completely vegan because they use coconut milk instead of cow's.