UPDATE [2023] – Good news, I have a Trader Joe's 45 miles from me. Out here where I live, that's pretty close.
——- original post ——-
Oh, to go to Trader Joe's again. Woe, woe is me…I used to live in Los Angeles before I moved back to the Midwest, but that is another story that has very little to do with food. I miss Trader Joe's. I did most of my food shopping there and at that time I was not vegan, almost or otherwise.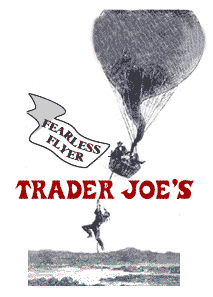 Now, when I really need a Trader Joe's within 5 minutes of me because I am almost vegan, the closest one is about a 3 hour drive away. Rats.
I got the bug for Trader Joe's again from a comment I received from a very interesting blogger. She posted with the name Akemi and her website is http://www.cosmiconion.com [no longer in service]. It is relatively new, like my own and she has some pretty funny bits going about eHarmony dating. She recommends Trader Joe's vegan cookies, they come very Trader Joe's appropriate in a paper bag, and she has tried the chocolate chip and oatmeal chocolate chip.
I looked at Trader Joe's website through my new vegan eyes and drooled. They have some good stuff and I love them because they are always really cheap. The stores in CA have more vegan stuff, of course. I was able to download their list of soy products (they don't have a list of vegan products) and it looked like they had some things I can't get anywhere else and would love to try like Trader Joe's Vegan Pad Thai with Tofu and Trader Joe's eggless egg salad, to name a couple. Here's the PDF's of both the East/Midwest and the West Coast Trader Joe's soy offerings.
East West
Or just go to the Trader Joe's website yourself and look around. I love their Monty Python-like images and sense of humor. You'll be able to find a store near you (hopefully) on their site.
Trader Joe's also has the best dried fruit section I have ever seen in my life, and priced so you can buy some of it. Great nuts. If you want some wine, this is the place to go. I used to get good Merlot for under $5 and French Cabernet for less than that. I'd also pick up the Trader Joe's Midsummer's Night Moisturizer for around $3 (its actually Nature's Gate which I have to pay $6 for).
That tears it! I'm going to the airport right now and hop a plane to my old Trader Joe's in Los Feliz, CA. Think of all the money I'll save!