Soy Boy Ravioli is amazing. I have fed it to die-hard carnivores and they love it. It's just darn tasty.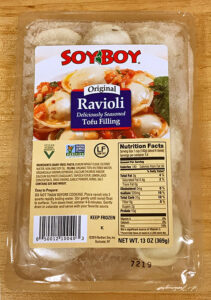 The company who makes it, Northern Soy, Inc., is incredibly low key. I "hear" (rumors on the internet) that they make different kinds of ravioli — tomato with roasted red pepper filling, and spinach pasta with tofu-based garden herb filling — but I have not seen them in my health food store, only this "original" ravioli so my suspicion grows.
They would be great with spinach pesto sauce and are also excellent with tomato Sauce. If you want to be really decadent, after you've boiled them, toss them in a pan with some vegan margarine plus a little garlic and fry them a bit. Then sprinkle with vegan parmesan.
***UPDATE — I found the ravioli Verde on the – Soy Boy Website.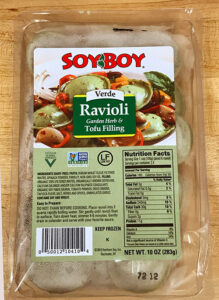 The funny thing is these guys can afford to be eccentric cause they make kill vegan ravioli, and that is no easy feat.
These are a must find/try! –> Good health food stores.