The single most delicious Vegan "meat" I've found. Have you ever heard of Chorizo, the spicy Mexican sausage usually served at breakfast? Well, Soyrizo is the Vegan equivalent. Visit Frieda's website.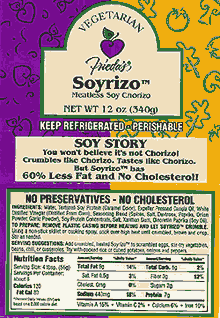 It is really tasty and as the package says — "Try it with cubed potatoes, onions and peppers." — and that's what this recipe is all about and a bit more. Check out one of my fave, quick to prepare meals that will knock you out.

————————————————————
Soyrizo Potato Vegetable Saute
4 medium red potatoes, cut into bite-size pieces
1 med-large onion, coarsely chopped
1 green pepper, coarsely chopped
8oz. package mushrooms, coarsely chopped
4-6 carrots, cut into small pieces
1 package Soyrizo
Olive oil
1.) Microwave potatoes 5 minutes, or just about soft enough to eat.
2.) Saute vegetables on high heat in 6 Tbls. or so of olive oil in a large pan. (I use a lot of olive oil to help simulate the greasy Chorizo, but use however much you prefer.)
3.) Toss the microwaved potatoes in the pan when the vegetables are 3/4 of the way done – Done is variable, I saute on very high heat and brown the edges of the veggies – however you like your vegetables. Stir potatoes in with vegetables and lightly brown the potatoes around the edges.
4.) When the vegetables and potatoes are almost done, squeeze half of the package of Soyrizo into the pan, mash it up, stir to distribute and saute for a few minutes. It will brown quickly so stir constantly and watch it carefully.
5.) Spoon onto plates, salt and pepper to taste.
You can add any vegetables you like to this recipe. I have used broccoli, cauliflower, green beans, mostly anything you have on hand or anything that is fresh is great.
Serves 4 small appetites or 2 big ones. You can always double it and use the entire package of Soyrizo. Just get a really big pan.