Thank God for Amy's. I just had a pack of company at my house. I cooked and cooked and I am beat. So luckily I have a bunch of Amy's burritos on hand and I am not going to cook for days!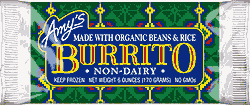 These Bean & Rice Burritos are great and so are the Black Bean and Vegetable, and the Breakfast Burritos, all vegan. Amy's tries so hard to be helpful, from their very tasty frozen food to the totally informative Amy's website.

All the products (vegetarian and vegan) have these little icons on them so you don't even have to read the ingredients. If you want to read them, they provide a very clear and informative pop-up window providing nutritional information and ingredients for every one of their products.