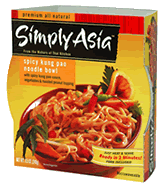 I happened upon this item in the international section of my local Wal-Mart. Oh, to go back to shopping at Wal-Mart after Whole Foods Market or even the Publix in Ft. Lauderdale, horrible! That's why I looked at the international offerings, I thought "Maybe I'll find something new and different".
Well I did. It's Simply Asian Spicy Kung Pao and it is good. The best part is you can order it online. No kidding.
Simply Asian Spicy Kung Pao (Wal-Mart) >>
Careful though, not everything they make is vegan. 3 of 4 of their noodle bowls are, but the Roasted Peanut has anchovy extract in it. They do have nice nutrition facts on each and every product so take a look.
Enjoy.