Pie is a great thing. It can be made vegan so easily I wonder why anyone ever makes a non-vegan fruit pie, but that's just me. It is much cheaper to make a vegan pie crust than a non-vegan pie crust, just as easy and just as good. It may sound like a lot of work to make a pie from scratch, but it is so worth it, there is nothing better than a homemade pie. Nothing!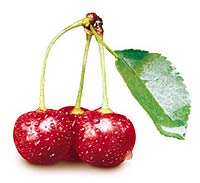 As I write this, I have my first fruit pie of the summer baking in the oven. I happened upon some tart cherries at a fruit stand not far from my house.
I live in what they call the "fruit belt" in Southwestern Michigan, not far from the lake so we get plenty of rain and snow. Many of my neighbors are farmers, but I am not.
Now I must admit I don't normally make cherry pie, in fact this is my very first one. I usually don't find tart cherries, but I saw them at the fruit stand and it is still a little early in the season for anything but strawberries, which I don't bake, so I got them. I usually make blueberry, peach, apple. I make a lot of blueberry pies because I live surrounded by blueberry farms. I actually can walk a very short distance and be in a farmer's field picking enough blueberries for a pie or two and walk home before he even realized I was there. Now I don't do this, mostly because once when I was young I was in his field on my mini-bike and he shot at me with what I think was buckshot. He missed.
Now I go to his farm and buy them. I get 5 pounds of blueberries for $6.00. I have never mentioned the time he shot at me. I wonder if he remembers, I don't think he was close enough to know it was me, but who knows.