Pie is a great thing. It can be made vegan so easily I wonder why anyone ever makes a non-vegan fruit pie, but that's just me. It is much cheaper to make a vegan pie crust than a non-vegan pie crust, just as easy and just as good. It may sound like a lot of work to make a pie from scratch, but it is so worth it, there is nothing better than a homemade pie. Nothing!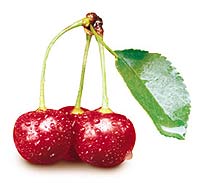 As I write this, I have my first fruit pie of the summer baking in the oven. I happened upon some tart cherries at a fruit stand not far from my house. I live in what they call the "fruit belt" in Southwestern Michigan, not far from the lake so we get plenty of rain and snow. Many of my neighbors are farmers, but I am not.
Now I must admit I don't normally make cherry pie, in fact this is my very first one. I usually don't find tart cherries, but I saw them at the fruit stand and it is still a little early in the season for anything but strawberries, which I don't bake, so I got them. I usually make blueberry, peach, apple. I make a lot of blueberry pies because I live surrounded by blueberry farms. I actually can walk a very short distance and be in a farmer's field picking enough blueberries for a pie or two and walk home before he even realized I was there. Now I don't do this, mostly because once when I was young I was in his field on my mini-bike and he shot at me with what I think was buckshot. He missed.
Now I go to his farm and buy them. I get 5 pounds of blueberries for $6.00. I have never mentioned the time he shot at me. I wonder if he remembers, I don't think he was close enough to know it was me, but who knows.

————————————
Vegan Pie Crust
2 1/4 Cups All-Purpose Flour
1 Teaspoon Salt
3/4 Cup Cup Vegetable Shortening
4-6 Tablespoons Ice Water
1.) In large bowl mix flour and salt. With pastry blender or 2 knives used scissor-fashioned, cut in shortening until mixture resembles coarse crumbs.
2.) Sprinkle in ice water, 1 Tablespoon at a time, mixing lightly with fork after each addition, until dough is just moist enough to hold together. (the less water you use, the flakier the crust)
3.) Shape dough into 2 disks with your hands, one slightly larger than the other. Wrap each in plastic wrap and refrigerate 30 minutes.
4.) On lightly floured surface, with floured rolling pin, roll larger disk as round as you can and wide enough to fill the bottom of your pie dish with some overlap to crimp around the edge. (about 12-inches round) Now the tricky part is scraping the dough off the floured surface you rolled it on. I roll mine on a large board and I use a dough scraper to get the pie dough up off the board and gently curl it over the rolling pin. This makes it easy to carry it to the pie dish without breaking it. (I find this impossible to do with my bare hands) Ease the dough into the pie dish and fix any breaks in it.
5.) Fill the piecrust. Place 1 tablespoon soy margarine, cut up, around on top.
6.) Roll remaining disk so it will fit over the top of the pie dish and then some. Ease it onto the pie. Take the dough scraper and trim the dough hanging over the sides of the dish, but leave an inch or so overhang. Fold the overhand toward the dish and mush together to join, crimp between thumb and forefinger making a decorative edge around the pie as you seal the pie crust together.
7.) Cut 1-inch slits in the top to allow steam to escape during baking — make a nice circular pattern. Put a slight amount of water in your hand and drizzle over the pie, then sprinkle sugar on the wet spots.
Cherry Pie Filling
Pit 6 Cups of Fresh Tart Cherries
1 (or a bit more) Cup of Sugar
1/4 cup of Corn Starch
Pinch Salt
1 Tablespoon Soy Margarine, Cut Up
1.) Preheat oven to 425 F. In large bowl, stir together sugar, cornstarch, and salt. Add cherries and mix with spatula or spoon.
2.) Create pie. (see above)
3.) Place pie on cookie sheet to catch any overflow during baking. Bake 20 minutes. Turn oven down to 375 F, bake 1 hour to 1 hour and 10 minutes, until filling bubbles in center. If necessary, cover edges loosely with foil to prevent over-browning during baking. Cool on wire rack at least 1 hour to serve warm, but the longer you cool it the less it will run.
Try not to eat it all right away.