Having a hankering for some steak? I have not always been a vegan and I watched a number of family members chow some really thick steaks Memorial Day Weekend. Now I was strong then, but it started to get to me after a while so I made this recipe with Lightlife Steak-Style Strips.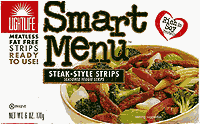 It's not real porterhouse or anything, but I do love these steak strips in all sorts of recipes. They have a nice seasoning on them and chew like steak. Uncanny really. They are also packed with protein, just like the real thing.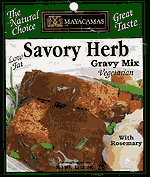 I get the steak strips at my Wal-Mart superstore, but the gravy I used for this particular recipe should be available in most good health food stores.

————————————————–
Vegan Steak & Gravy w/Mashed Potatoes
6 med. red potatoes, peeled
3 large carrots, sliced
8oz. mushrooms, coarsely chopped
1 pkg. Smart Menu Steak-Style Strips, Lightlife
1-2 Tbsp. Oil
2 Tbsp. soy margarine
Plain soy milk (I like Sun Soy or Westsoy)
1 pkg. vegan gravy mix
1.) Boil the potatoes
2.) Toss the steak strips, mushrooms, and carrots into a fry pan with the oil (I always use mild olive oil) and fry on med-high heat. Stir very often, I use a wooden spoon.
3.) Make gravy while everything else cooks. Follow package directions.
4.) When potatoes are soft, remove from heat, drain. Add margarine, a splash of soy milk and mash.
5.) Pour gravy into pan with steak strips, mushrooms, carrots. Turn down heat and stir well.
6.) Place a mound of potatoes on a plate and spoon steak strip-vegetable-gravy mixture over it.
Makes enough for 4 small appetites, plenty for 2. Serve with a nice salad.
A very hearty, but easy to make vegan recipe.