Yes, you can bake vegan. How? Use Ener-G Egg Replacer instead of eggs and soy margarine instead of butter. You can't taste the difference in this recipe.
Ener-G Website – Purchase Online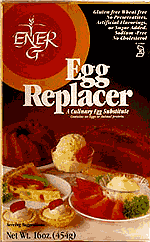 I use this egg replacer all the time, in carrot cake, chocolate cake, and cookies. I take regular recipes and then "veganize" them. Not always 100% successfully, Ener-G even says on the box to try it and see. It will work in some recipes and you may have to vary the amounts and ingredients in others. Like my carrot cake, I add a little corn, un-called for, starch to hold it all together. The first one I made fell apart, but I got it now. (carrot cake recipe to come) These oatmeal-raisin cookies will get you started and only replacing one egg is pretty safe. It's the recipes that call for 4-5 eggs that are scary.

————————————-
Completely Vegan Oatmeal-Raisin Cookies
3/4 cup all-purpose flour
1/2 tsp. baking soda
1/4 tsp. salt
1 stick soy margarine (check earlier blog entry)
1/2 cup granulated sugar
1/3 cup packed brown sugar
1 large egg = Ener-G Egg Replacer
2 Tbs. warm water
2 tsp. vanilla extract
1 1/2 cups old-fashioned or quick-cooking oats, uncooked
3/4 cup dark seedless raisins
1.) Preheat oven to 350? F. In medium bowl or on a sheet of waxed paper (easier to pour), combine flour, baking soda, and salt.
2.) In large bowl, with mixer at medium speed, beat margarine and granulated and brown sugars until creamy.
3.) In a very small bowl mix 1-1/2 teaspoons Ener-G Egg Replacer with 2 tablespoons warm water. Mix thoroughly.
4.) Add egg replacer and vanilla to the margarine and sugar mixture, beat with mixer on medium speed until smooth. Reduce speed to low; beat in flour mixture. With spoon, stir in oats and raisins.
4.) Drop dough by heaping tablespoons, 2 inches apart, on large ungreased cookie sheets. Bake 15 minutes or until golden. With a spatula, transfer cookies to wire racks to cool completely.
Makes about 2 dozen vegan cookies. Chow.