Yogurt??? Well not exactly, but close enough to always make me happy. WholeSoy is thicker and creamier than Silk, and it doesn't get watery if you leave it in the fridge a few days. Best of all its completely vegan.





11 flavors, my fave is blueberry and raspberry is great too. Also peach, plain, strawberry, cherry, lemon, apricot mango, strawberry banana, mixed berry.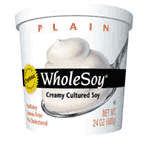 Plain WholeSoy Creamy Cultured Soy is available in 24oz size. Great for baking, recipes, smoothies.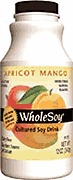 They also make drinkable Cultured Soy. I like this too, I don't drink it too much and it is a little thick. I usually would rather make my own smoothies.
If you have never had soy yogurt, or you have not tried WholeSoy and are stuck on another brand, give it a try and let me know what you think.