Bagels are vegan legal, well most of them anyway. Yum, I love them, but I love bagels with cream cheese and that's the way I have 'em.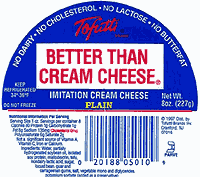 This Tofutti Better Than Cream Cheese is just that, better. I think it is as close to the real thing as you can get, closer than imaginable. I am always surprised at just how good it is. Maybe real cream cheese is just a tad bit more sour, just a bit, but that is as much criticism as I can give this stuff.
If you have not tried Tofutti Better Than Cream Cheese, you absolutely must. The plain is great and it comes in flavors.
Available in most health food stores.