Oh my. I was in Chicago, on the North Shore actually, and I ran across this Dean & Deluca Marinara Sauce. Well if you have a bit too much money and want a really, really good pasta sauce, try this.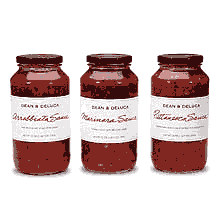 Yeow, I couldn't believe it was so good, but I think it cost like $10.00 a jar. I can't be sure because they didn't have a price on it and I didn't pay for it. If I'd had to I'm sure I wouldn't have gone for it, but rich friends were doing the shopping.
If you are in a very upscale grocery store with some very rich friends and happen upon this stuff, try it.
Or I have the Dean & Deluca website to click on. On their site it's only $24 for all three different kinds of sauce, Marinara, Arrabiata, Puttanesca. I don't know if anything but the Marinara is actually vegan, and I don't know if they would substitute three of one kind instead of one of all three kinds. You can send them an email and ask, for $24 they should do a little dance for you too, but this sauce is actually so incredibly good, they don't have to.