I tried the Tamari flavor last night in a saute of onions, green beans, carrots over pasta and it was quite good. What I like best about Tofu Tenders is the burst of protein I got from them.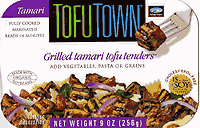 They are by WhiteWave, the makers of Silk and come in 4 flavors including: Havana Black Bean, Mediterranean Tenders, and Sesame Ginger Teriyaki.
They are fully cooked, marinated, and ready in minutes just like the package says.
——————
UPDATE – These are not made anymore.