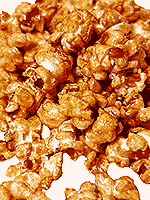 It's funny the things you crave when you are denied or in my case denying myself. Caramel corn, for me, is one of those things. I don't know of a caramel corn that you can buy that is vegan, but we're in luck. I got a pretty quick and easy recipe for caramel corn that you make in the microwave. I made it in about 10 minutes, popcorn included.
Try it, it is incredibly good!

—————————–
Vegan Microwave Caramel Corn
1 cup brown sugar
1/2 cup vegan butter/margarine
1/4 cup white Karo syrup
1/2 tsp. salt
1/2 tsp. baking soda
3 qt. popped corn
1.) Combine sugar, butter, syrup and salt in a 2-quart microwave safe glass bowl. Bring to a boil in microwave on high. Cook on high 2 minutes more. Remove and stir baking soda in well.
2.) Put popped corn in a brown paper grocery bag. Pour syrup over popcorn, close bag and shake well.
3.) Cook bag in microwave on high 1 1/2 minutes. Shake well and cook another 1 1/2 minutes on high. Take out and shake well again. Pour on slightly-greased cooking sheet to cool.