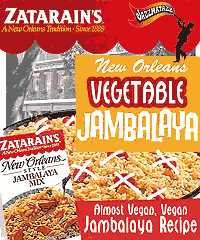 I am taking credit for this recipe here, but it was actually Carmen who left a comment on a Zatarain's Black Beans & Rice post suggesting vegetables be used to make these Zatarain's mixes a meal.
I used onions, zucchini, mushrooms, and carrots in this one, but you can use most any veggies and unless you like your zucchini pretty soft, I might go with vegetables that hold up better when you cook them a long time. 25 minutes on low to be exact.
I don't mind, and thought zucchini would be good for a New Orleans style recipe, but okra would be even more authentic.

—————————-
New Orleans Vegetable Jambalaya
2 zucchini – chopped
1 onion – chopped
1 cup mushrooms – chopped
1 cup baby carrots – chopped
olive oil
Zatarain's Jambalaya Mix
2 1/2 cups water (in directions on box)
1.) Saute vegetables in a large pan on high heat very lightly, (toss the zucchini in last) in olive oil to give them some color and flavor, but don't cook very much.
2.) Pour in the 2 1/2 cups water, scraping the bottom of the pan with a wooden spoon to get up all the gristly tasty stuff and bring to a boil.
3.) Add the Zatarain's Mix when boiling and then return it to a boil. Reduce heat to low, stir, cover and simmer for 25 minutes.
4.) Remove from heat, let stand 5 minutes.
Chow! Serves 2 really hungry people or 4 not so hungry.