Yes, you can bake vegan. How? Use Ener-G Egg Replacer instead of eggs and soy margarine instead of butter. You can't taste the difference in this recipe.
Ener-G Website – Purchase Online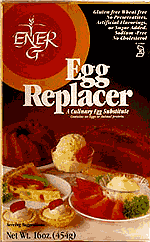 I use this egg replacer all the time, in carrot cake, chocolate cake, and cookies. I take regular recipes and then "veganize" them. Not always 100% successfully, Ener-G even says on the box to try it and see. It will work in some recipes and you may have to vary the amounts and ingredients in others. Like my carrot cake, I add a little corn, un-called for, starch to hold it all together. The first one I made fell apart, but I got it now. (carrot cake recipe to come) These oatmeal-raisin cookies will get you started and only replacing one egg is pretty safe. It's the recipes that call for 4-5 eggs that are scary.